Helicopter & Rafting Tour from Las Vegas
Quick Facts
Fly to bottom of Canyon.
Drive to base of Hoover Dam.
11.3-mile float.
Bring bathing suit
All-inclusive price

As temperatures heat up, so does the best 1-day rafting tour out of Las Vegas. Not many travelers are aware of this one, but it's the trip that starts with a helicopter ride and ends with a dramatic float down the Colorado River.
That said, do beware that this trip leaves only ONCE a day around 7 a.m. Because of this, seating can get very limited despite the fact that there are multiple rafts with seating for up to 19 people.
RSVP
My point here is that if this trip appeals to you then please consider booking it at least a week in advance. And forget same-day bookings as the trip will be sold out. This is definitely a case where you want to plan ahead.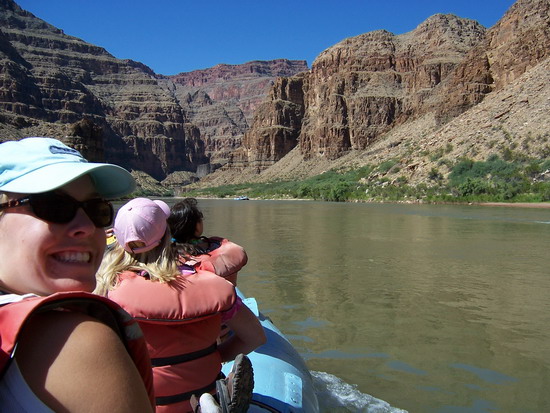 Relatedly, there was talk about a Las Vegas helicopter tour that included a day of white water rafting from Peach Springs. When I first heard this I thought to myself "well it's about time." Unfortunately, the trip will not be offered in 2014. If the situation changes, I will update you.
Back to the situation at hand...
This Vegas rafting package incorporates a helicopter ride that goes over Lake Mead and Hoover Dam before landing at the bottom of the Grand Canyon near the Colorado River. The descent is fantastic and takes up to 15 minutes. I consider it one of this trip's highlights.
The Bottom
You get about 30 minutes of bottom time, which is sufficient to indulge in a snack and walk to banks of the Colorado. That's pretty cool, but what makes this aspect of the trip so special is that you can only do this at the West Rim. Nowhere else in the Park are helicopters permitted to land at the base.
The ascent is equally intense and typically helicopters exit via a side canyon and pass the Grand Canyon Skywalk before straightening out toward the airport where you'll deplane into a comfortable shuttle with refreshing A/C (you'll appreciate the A/AC during summer when temperatures break 100 degrees.).
From there you'll travel to the base of Hoover Dam where the pontoon boat dock sits. If you've never been to the bottom of Hoover, it's quite a site, especially when you stare up 700 feet to the top of the retaining wall. Again, this is a perspective that few travelers will ever experience.
The Float
These rafts are all adventure-grade and hold up to 19 people. They are motorized, too, but for the most part you'll be taken downstream via the Colorado's steady current. It's not a blazing pace, either, which is good because you'll want to kick back and enjoy a landscape that's second to none.
The other thing I want to bring to your attention is that there are no white water rapids on this tour. This may turn off some you guys and that's fine. However, I've found that the lack of white water makes this float ideal for groups, families and couples. Further, because it's "white-water free," kids as young as four can do them.
The float continues on for about 11 miles before terminating at Willow Beach. From start to finish, there are numerous opportunities to beach the raft and hit the water to cool off, which I strongly advise. And as such, you'll want to pack or wear a swimsuit. I also recommend a brimmed hat, sun block, shorts, a lightweight long-sleeved shirt and sunglasses.
Willow Beach
At Willow you'll transfer back to the bus and make the return to the Las Vegas and your Las Vegas Strip hotel. Free hotel pick up and drop off is just part of this all-inclusive package, which also comes with all taxes, fees, gear (e.g. life vest), lunch, professional river pilot and more. In total seriousness, what you pay during online checkout is fixed so there are no surprises.
I want to make extra sure you guys know that this helicopter-rafting tour starts from Las Vegas and goes to the West Rim, Hoover Dam, the Colorado River and Willow Beach. I say this because I regularly get calls, email and live chat inquiries wherein travelers confuse this trip with those at South Rim.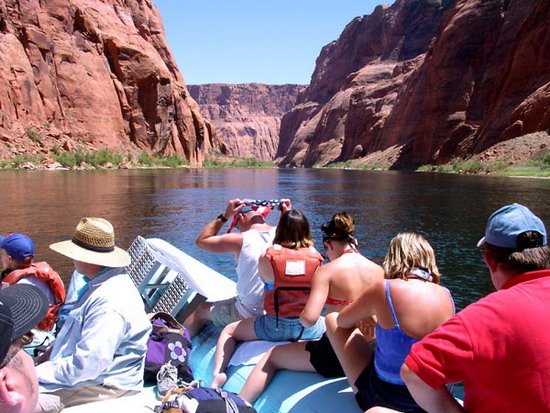 To be clear, the South Rim is located in Arizona, north of Phoenix and Sedona, AZ. It's 277 miles from Las Vegas, a distance that's out of range of Vegas helicopters. Go here for more details about the Rims and what differentiates them. Moreover, if you are indeed going to be at the South Rim, please keep in mind that you'll want to at least spend ONE night before or after a float trip.
Go here for more information about South Rim float tours.
Conclusion
My intention with this article is to introduce you to the Las Vegas helicopter-rafting package. Indeed, it's a bit under the radar so use it to your advantage. That said, the trip is also very limited and leaves once a day so please book it in advance, especially if you are party of three or more people. And please dress for adventure. I'm not saying you have to look like someone from "Survivor," but do be prepared for a day of fun on the water.
Have a grand day,

P.S. I rate the top 3 Grand Canyon helicopter tour companies that fly out of Las Vegas, NV. Click here to see who's my #1 choice. .
Tweet
Follow @keithkravitz