West Rim or South Rim by Helicopter?

Grand Canyon helicopter tours give travelers a ton of advantages: the views are magnificent, they fly over the rim's main highlights, and some of them (landing flights on West Rim helicopters) even land on the canyon floor, allowing their passengers to roam the bottom or have fun on a pontoon-boat tour that cruises the mighty Colorado River. Helicopters take travelers either to the West Rim or the South Rim (not both on the same flight). The two rims offer different experiences, which has a lot of travelers wondering which rim they should choose.
To help you decide, here's a little information on Grand Canyon helicopter tours. To start with, it's probably helpful to know that there are two main departure points for these tours: West Rim helicopters fly out of Las Vegas and surrounding metro airfields, while South Rim helicopters leave from Grand Canyon National Park Airport in Tusayan, AZ, a small town just outside the South Rim's main gates.
Vegas helicopters are limited to visiting the West Rim - there is no helicopter flight from Las Vegas to the South Rim (flying from the city to the South Rim and back exceeds a helicopter's range). So, a direct 45-minute airplane flight from Las Vegas to Grand Canyon National Park Airport (at the South Rim) is the Vegas traveler's best bet to visit the South Rim. From there, South Rim helicopters will be available.
West Rim Thrills!
West Rim helicopters provide excitement, exhilarating views and, if travelers opt for a landing flight, the opportunity to land at the rim or on the canyon floor. In fact, West Rim landing tours represent one of the biggest differences between West Rim helicopters and South Rim flights: South Rim helicopters are restricted to flying over the Rim - they're not permitted by the Federal Aviation Administration (FAA) to land anywhere inside the National Park.
That doesn't mean South Rim helicopters aren't terrific, because they are. The South Rim is all about nature and its awe-inspiring glory, and South Rim helicopters treat travelers to an aerial extravaganza of natural wonders wheeling beneath their eyes, including hidden canyons that can only be seen from the air, magnificent red sandstone cliffs, and majestic rocky spires. The most popular South Rim chopper rides are 30 or 50 minutes in length and fly over a great deal of the National Park, making them ideal for travelers with limited time.
Of course, West Rim helicopters are very popular too. Travelers coming from Vegas love them because they're convenient and there are so many spectacular sights. Air-only West Rim helicopters are perfect for busy Vegas travelers and fly over all the rim's highlights, but experts say that West Rim landing tours are best for visitors with more free time. After they arrive at the rim, these flights either land at the top or fly down to the bottom. Either way, passengers have plenty of time to explore the sights. People who choose a tour that lands at the top of the rim can add optional passes to the Grand Canyon Skywalk, while those who fly down to the canyon floor can hike around, enjoy a champagne brunch, or add an optional float trip down the Colorado River.
Weather Ready
The climate at the rims is different and you need to prepare for it. The West Rim's weather is very much like that in Las Vegas: hot in the summer (temperatures regularly go over 100 degrees!) and chilly and windy in winter. The South Rim, which sits at an elevation higher than 6,000 feet, is temperate in the summer and cold and snowy in the winter. Regardless which destination you pick, I do recommend that you pack a hat, sunglasses, water and a salty snack like Trail Mix. Also, try to wear sturdy boots or running shoes. The terrain is rocky at both locations, and, during winter, such footwear is an absolute must at the South Rim where there's a chance of ice present on the sidewalks.
Don't wait until the last minute to purchase your helicopter tour. This applies to both rims. These trips are incredibly popular and sell out quickly. This is especially true during peak season, which runs from April to November. Rule of thumb is to buy your tour at lease a week in advance. There are several advantages to this. The first (and most important) is that you'll get a seat. Second, you'll have access to more tours from which to choose. Lastly, you'll be able to pick from more departure times (I recommend morning flights when visibility is optimal and air is at its smoothest).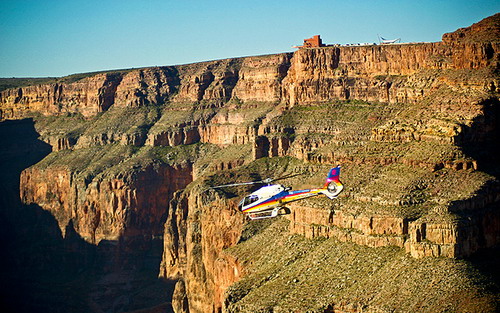 Indeed, landing tours can be more expensive than aerial flights but you get to see and do more if you decide to deplane and explore. When it comes to price, however, make sure you book your trip online. More specifically, make sure you buy it direct from the tour operator. This might sound counter-intuitive but it's true that the tour companies themselves post deals that sites like Viator, Travelocity and Expedia can't come close to matching. However, there is one caveat you need to know: always transact and book your trip online in order to get the Internet discount. Too many people expect to get the Web special simply by calling the tour operator only to wind up paying more. Play it smart. Buy it online. After that, feel free to spend as much time as you want chatting with the live customer service representative (they're actually commissioned sales people).
Conclusion
Both rims pack plenty of punch, so which rim you choose depends on where your tour will start and what types of experiences interest you most. West Rim helicopters offer the potential to walk out over the rim's edge at the Grand Canyon Skywalk or float down the mighty Colorado. South Rim helicopters focus strictly on aerial views of the canyon. But here's the bottom line: you won't go wrong no matter which rim you choose.
Have a grand day,

P.S. I rate the top 3 Grand Canyon helicopter tour companies that fly out of Las Vegas, NV. Click here to see who's my #1 choice. .
Tweet
Follow @keithkravitz