Types of Helicopters

This is one of the most popular questions I get: "Is it worth upgrading to a tour that uses an EcoStar 130 helicopter?" That depends, but in most cases, yes. Moreover, if you've booked a landing tour, you're most likely already on an EcoStar. Let's take a closer at how the model of helicopter can significantly improve your Grand Canyon sightseeing experience.
Types of Choppers
There are three kinds of helicopters that tour the Grand Canyon. They are:
A-Star
Bell Ranger
EcoStar 130
The A-Star is used primarily for air-only tours like ones that fly over the West Rim, South Rim and the Las Vegas Strip. The Bell Ranger is also used for aerial trips, but it's not uncommon to see it on budget landing trips. The EcoStar, which is used for deluxe aerial tours, is the primary chopper for landing tours.
What differentiates these choppers? Three things:
Seating configuration
Number of passengers
Ambient noise
The A-Star can hold up to six passengers including the pilot. Its bench seat, which holds four travelers, distinguishes it from the others. It also uses a conventional tail rotor, which generates more noise than modern rotors.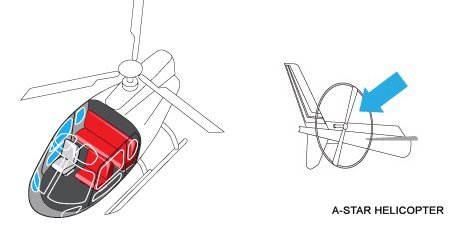 Frankly, if you're a big or tall person, you might be pinched for space on an A-Star.
A key points of difference for the Bell Ranger is that it uses two back-facing seats. I personally don't mind this, but many do who like to watch the canyon unfold in front of them. It also uses a conventional tail rotor.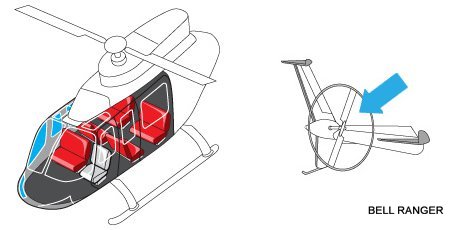 The EcoStar, in my opinion, is the clear leader for helicopter tours. Here's why:
7 forward facing seats
Seats configured "stadium style." This means they are stepped so everyone has an unimpeded view.
25% more cabin space - Personal space for everyone
180-degree windshield
Excellent climate control - You'll appreciate this during winter and summer flights
Fenestron trail rotor - Quietest ride on the market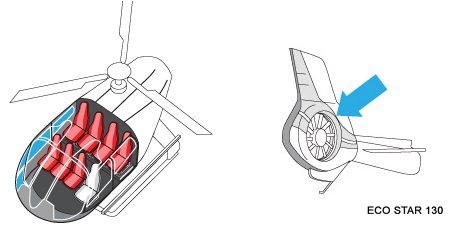 I do want to point out that you'll be wearing noise-compression headphones on all flights. For me, this somewhat diminishes the benefit of the Fenestron tail rotor. However, many readers tell me that the noise reduction is significant enough to make a positive difference to the overall tour experience.
The Rims
Helicopter tours depart daily from Las Vegas, NV, and Grand Canyon National Park Airport in Tusayan, AZ. Vegas flights go to the West Rim. They don't go to the South Rim because it's too far away (275 miles) - my recommendation is to take this airplane-helicopter package if you want to go there.
For Vegas visitors, the question remains: "Which rim should I visit?" This can be decided quickly by mulling the following:
Do the West Rim for thrills and adventure - This is the only place where you can fly below the rim and land on the bottom. The Skywalk is here, too.
Do the South Rim for natural beauty - This rim is the "official" Grand Canyon. The most famous pictures of the National Park were taken here.
Tours
Both air & Landing tours are available from Las Vegas and the National Park Airport. From Las Vegas, Maverick Helicopters is the only company to use the EcoStar on all aerial tours. That's why their flights are more expensive than Papillon Helicopters, which uses A-Stars and Bell Rangers on these flights. Maverick also uses the EcoStar for all South Rim aerial tours, while Papillon gives you the option to upgrade an A-star/Bell Ranger flight to a deluxe trip that uses the EcoStar (pricewise, Pap's EcoStar trips are also cheaper than Maverick's).
Best Flight Time
I always advise friends and family to take morning flights. This ranges from the "early bird special" to the one that departs at 12 p.m. The reason for this is twofold:
Better visibility
Smooth air
Early take-offs are especially beneficial if you happen to be on an EcoStar. First, the EcoStar's aerodynamics are state-of-the-art and this really comes through as these "birds" glide through the atmosphere. Second, EcoStar's have that huge windshield, which comes into play on a clear morning and all you have in front of you are impeccable canyon vistas.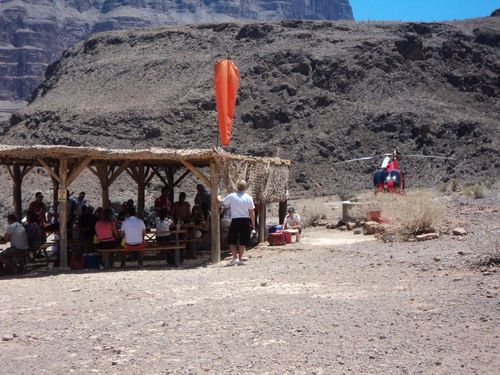 Weight Limits
Regardless of a helicopter's make and model, weight must be distributed proportionally. Thus, you can't pick where you sit as you make your reservation. Papillon and Maverick, among others, will sell you the front seat, but getting it has a lot more to do with luck. If you want a shot at the front, my recommendation is ask for it at check-in. In most cases, it will add an extra $50 to your ticket, which is a pittance considering the view you're going to get. Frankly, I find the front seat upgrade more useful on the A-Star and Bell Ranger because all the seats on an EcoStar are great.
RSVP
It's a well-known fact that helicopter tours frequently sell out. This applies to both West Rim and South Rim air and landing trips. As such, I don't recommend waiting until the last minute to book these flights. Nor do I advise purchasing them upon arrival in Las Vegas or Tusayan. Instead, save yourself money (and stress) by buying your seats at least a week in advance. Do that and you'll be able to cherry pick from the best tours at lowest prices. If you can't abide by this golden rule, wait no more than 72 hours (3 days) prior to take off. And by no means book within 24 hours - if you do, prepare to get out the checkbook.
Few more thoughts before we move on...
From my experience, there are two reasons why folks put off reserving helicopter tours in advance:
They believe it's cheaper when they get to destination;
They are concerned about canceling and not getting their money back.
I've dealt with point #1 earlier (at the risk of repeating myself always expect to pay more for last-minute bookings). As for point #2 - I'm totally with you on this one and that's why I read the small print of everything I buy. Because I only use tour companies that offer consumer-friendly cancel & change policies, I don't fret over this. Neither should you, especially after reading this article.
Deals
I think we can all agree that the Internet is the best place for finding deals. The key word here is "finding." Lately, I've run into lots of readers who spend hours and days hunting down specials. In the end, they get a less-than-average rate and in some cases they end up paying retail (ouch!). My advice here is simple:
Avoid "big box" travel sites like TravelZoo, Expedia, Priceline and the like;
Go direct to the travel suppliers - These are companies that own and operate the tours and have the ultimate power when it comes to pricing;
Book your trip on the website - In most cases, you MUST do this in order to get the Internet discount. Failure to do so can result in paying the premium rate!
If you combine these three steps with booking in advance, I can nearly guarantee you'll get a more-than-decent rate. In my case, I save myself, friends, family and readers up to 35% doing it this way, and there's no reason on this planet why you can't save that much, too.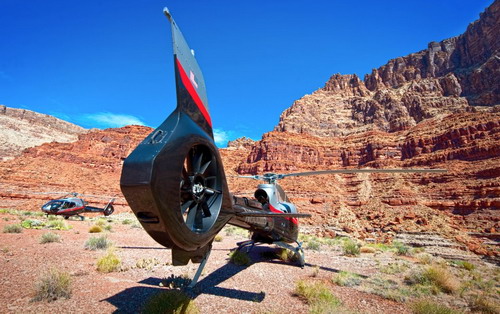 Conclusion
I hope I effectively showed you the types of helicopters used on Grand Canyon tours. Each aircraft delivers and excellent ride, but, if you can afford it, I recommend stepping up to an EcoStar 130, which is used on all landing tours and on select air-only tours. I understand that helicopters aren't the cheapest travel option. However, if you put my tips into action (book in advance on the Web), you'll be able to make them much more affordable. The next step now is to get the tour that works for you. Once airborne, I'm certain you'll agree that choppers are the only way to "do" the National Park!
Have a grand day,

P.S. I rate the top 3 Grand Canyon helicopter tour companies that fly out of Las Vegas, NV. Click here to see who's my #1 choice. .
Tweet
Follow @keithkravitz