Top 3 South Rim Helicopter Tours
Fast Facts
Take the 50-minute flight.
See up to 75% of the Park.
Fly the EcoStar 130
Includes all taxes & fees
Must provide own transport.
Taxi service available

The winter chill has lifted and spring has sprung and that means it's time to take a South Rim (SR) helicopter tours. There are lots options from which to choose and I know which ones I like the best. However, what's most important is understanding what you guys like.
To that end, I polled 77 readers who've done the SR in a helicopter. I spent the weekend tabulating them and I must say the results are fascinating. The one thing that really jumped out at me is that folks do prefer the EcoStar 130 and are willing to pay extra for it.
To this I say, "Well done!" I'm a huge fan of any air tour that utilizes the EC. There are a number of reasons but I'm going to let fly my primary ones. First and foremost is comfort. These choppers are equipped with cabins that are 25 percent bigger than the aircraft used on basic tours. That's a considerable difference if you're a big guy like me and need to stretch the legs out.
Head Room
Further, the EC boasts what I call stadium-style seats. Think movie theater and how rows are elevated so you don't have to deal with the guy who decided to wear a hat to the cinema (Why is that? And why don't these people take off there hats inside?). Then there's the EC's 180-degree wraparound windshield, which is a huge plus when it comes to getting monster views of the National Park.
OK, so there's my take on the EC and why I'm so pleased that many of you insist on this aircraft. I mean why wouldn't you, right? The Canyon is a once in a lifetime experience so don't sell yourself short and get on a Bell Ranger with a rear-facing jump seat (gasp!). NO, always play it smart and go with the deluxe versions of these South Rim flights.
Which leads me to the top 3 trips as voted on by the readers of this website. The #1 trip is the 50-minute deluxe. The most common reason in support of this is the fact that you see upwards of 75 percent of the entire National Park. That's truly phenomenal when you consider that the Park encompasses more than 1 million acres of nearly inaccessible wilderness.
NNW of the Watchtower
The #1 tour also has the most interesting flight path. Like all the others, it kicks off from Grand Canyon National Park in Tusayan, AZ, but, instead of heading north, it goes east nearly all the way to the eastern boundary before banking north near Desert Watchtower (architect Mary Colter's signature monument and the primary lookout at Desert View).
The moment you leave rim and enter abyss is what I call the "aha" moment because it's one of the most intense things you'll ever do. And once you regain your wits you'll want to look out to the right because that's where the Colorado Confluence (CC) lies. The CC is a real highlight because you'll never see a more brilliant color of turquoise than the Little Colorado (of course, there's Havasu Falls but you can only get there with good planning and a 10-mile Canyonlands hike).
From there the 50 does the North Rim (NR), which, if you were to drive there from the SR, would take 5.5 hours and that's if it's open because it's closed from October thru March. The chopper will strafe the NR before heading back into the chasm and via the Dragoon Corridor, the widest, deepest section of the canyon before landing at the airport.
30 Minute Joy Ride
The 50 deluxe is one heck of a flight and so is its sibling, the 30-minute EcoStar, which you guys voted #2 on the list. Because of time constraints the #2 lops off all the eastern flying the 50 did and resigns itself to a South Rim - North Rim route that includes Dragoon as well as incredible views of Grand Canyon Village. Many of you said you'd have booked the 50 but budget played a factor and I totally agree with that if that's where you are coming from.
The #3 ranked flight was the one called the Sunset Safari. I've always liked this trip. It's a true powerhouse and it starts with a 30-minute basic flight from SR to NR and back just like the two EcoStar trips before it. But what makes this one so standout is the time of day: sunset. Summers at the SR are amazing and just when you think you've seen it all you see the sun go down and your back to square one when it comes to phenomenal.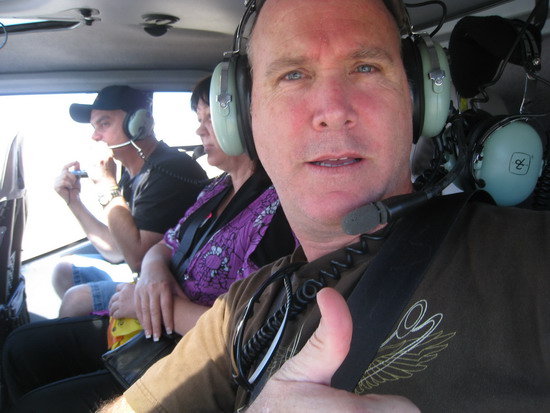 You'll fly a portion of that at dusk but the majority of the Sunset Safari is via Jeep. I'm going to assume that most of you will have seen the South Rim via your own vehicle or by National Park shuttle bus. And that's all good and fine. But if you're looking for once-in-a-lifetime stuff you've got to go off road. This particular package uses a 4x4 and drives into the Canyon's secret interior via fire roads (in fact you'll even stop and climb a fire tower for a view few have ever done!) before pulling the truck over for sunset viewing on an isolated edge. Now that's how you do a sunset.
Conclusion
Well, that brings to a close this reader survey regarding the best Grand Canyon South Rim helicopters. I'm so proud of my readers because they got it right. Especially when it comes to the 50 deluxe, which after this poll is the one I'll continue recommending as my #1 pick. Now, should you have more questions about SR helicopters (pricing, availability, options, etc.), I urge you to contact me via email at grandcanyonkeith AT gmail.com or by phone at 702-530-8687 or by joining me in Live Chat. Until next time, have a grand adventure!
Have a grand day,

P.S. I rate the top 3 Grand Canyon helicopter tour companies that fly out of Las Vegas, NV. Click here to see who's my #1 choice. .
Tweet
Follow @keithkravitz