Sunset Helicopter Tours
Quick Facts
Book at 2+ weeks in advance.
Book online for Internet price.
Take last tour of the day.
Go deluxe to get EcoStar 130.
Need help? Call Keith: (702) 530-8687
Price: $$$ Book It!

Ready to see the Grand Canyon in all its glory? Take a sunset helicopter tour. These flights let you experience the National Park during the "golden hour" and can be upgraded to include side trips that will make your aerial adventure truly stratospheric!
Before we jump into it, I want to point out that you can book the last regular aerial tour of the day and catch the tail end of a sunset. This approach, however, is a bit of a gamble because companies purposely limit these flights in order to accommodate the more profitable sunset excursions.
Now let's get on with it, shall we?
There are a number of helicopter tour operators that provide these unique flights. My favorites are Papillon Helicopters and Maverick Helicopters. These companies are the cream of the crop. But like all market leaders, there are points of differentiation. Let's take a look:
Papillon & Maverick
Papillon is the oldest, most reputable air-tour concern in operation today. Largest selection of air and landing tours on record. Flies out of Las Vegas, NV, and Tusayan, AZ (a.k.a. the South Rim). Each year, Papillon transports more than 600,000 people to the National Park. Customer service is excellent. But the key thing that Papillon hangs its hat on is value. Nobody comes close to their everyday low prices.
Maverick is the upstart on the block. Its focus is on more personalized trips swaddled in 5-star customer service. Maverick flies the elite EcoStar 130 (Papillon uses this aircraft, too, as well as the Bell Ranger and the AStar for aerial tours). The company has swanky new terminals in Las Vegas and Tusayan. Excellent safety record. More expensive than Papillon but customers swear up and down that it's worth it.
The Rims
There are two places where helicopters go inside the National Park: The West Rim and the South Rim. If you are in Las Vegas, you'll go to the West Rim, which is 120 miles away from town (flight time is less than an hour). Travelers based in Arizona will do the South Rim. Flights depart from Grand Canyon National Park Airport (GCA), which is located 10 minutes from Grand Canyon Village, 2.5 hours from Sedona and 3.5 hours from metropolitan Phoenix.
Kinds of Tours
Here's a quick summary of Papillon's and Maverick's sunset tours:
From Las Vegas, NV
Papillon
Grand Celebration Sunset - This is the company's signature package. Flies over Lake Mead, Hoover Dam & Grand Cliff's Wash before landing at bottom of West Rim for a Champagne picnic.
Grand Celebration Sunset & Las Vegas Strip - Includes everything the classic sunset flight does, plus a flight over the fabulous Las Vegas Strip that includes the Stratosphere Tower, Paris' Eiffel Tower, Bellagio's Fountains and much more. Details.
Maverick
Wind Dancer Sunset - Like the Grand Celebration tours, the "Dancer" flies to the bottom of the rim for a Champagne picnic. The big difference is Maverick's stellar customer service and luxury.
Silver Cloud Sunset - This is a one-of-a-kind air-only tour. It takes off from Maverick's Las Vegas Strip terminal, which is 5 minute from all major hotels. Papillon doesn't offer this because it's too difficult to transport passengers from The Strip to the company's Boulder City terminal. Book it!.
From South Rim/Tusayan - Arizona
Papillon
The company offers two flights: A 30-minute and 50-minute aerial tour. You want the last flights of the day. There are no designated "sunset" flights. My advice is to book the last flight of the day - ASAP!
The company offers a really neat air/ground package called the Sunset Safari. It combines a 30-minute aerial tour with a safari-style jeep ride that gets you to the edge of the South Rim for the sunset. It's a spectacular way to spend an afternoon. Here's a list of South Rim flights
Maverick
On the face of it, Maverick only offers the Canyon Spirit, a 50-minute aerial tour that, like Papillon's, visits the South, East and North Rims. There's a less-pricier Maverick option but you have to know where to look. It's called the Canyon Dancer, and it's a 30-minute ride. Start here for the last scheduled flight.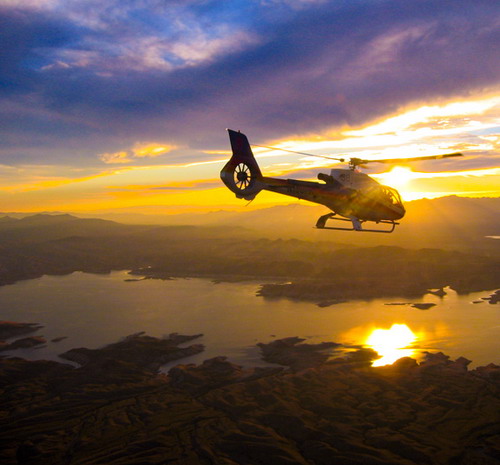 Everything Included
I like package tours because they let me focus on what's most important: enjoying my vacation. Sunset helicopter tours include hotel shuttle service, all taxes, all park fees, fuel surcharges, lunch (excluding air-only tours) and professional guide service. The only thing you really need to concern yourself is with the essentials, like clothing (dress for hot weather during summer and cold during winter), your camera and whatever else you need to make the trip fantastic and memorable. Tipping is a common question I get from readers. My rule of thumb is to tip between $25 and $50 for couples and groups. It really is subjective, and, most importantly, if you felt the pilot enhanced your experience (these men and women know the canyon like the backs of their hands and much of what they say is instrumental to understanding what you are looking at below).
Reservations a Must
Sunset flights are truly limited as they must leave at a certain time in the late afternoon to deliver the goods. Thus I urge readers to book these flights at least a week in advance. Believe me, if there's going to be one time period that sells out, it's inevitably anything that leaves the ground at 4 p.m.
There are also other benefits to purchasing in advance:
You'll have more tours and times from which to choose;
You'll ensure that your group flies together (max helicopter occupancy is between six and seven passengers);
You'll avoid purchasing seats at the destination, which will cost you a lot more. Further, you probably won't get the flight you want.
Best Price
Sunset helicopter tours are always going to fetch a premium because demand is so strong. That doesn't mean you have to settle for an over-priced package or an average deal. In addition to booking ahead of time, here are two steps that will help you knock that price down:
Buy direct from the tour suppliers like Papillon and Maverick. Don't purchase your seats from "big box" travel like Expedia, Priceline or Orbitz. By going direct, you'll be dealing with the companies that own and operate the tour and set the prices. They also offer the best promotions;
Make sure to complete your transaction online. The best deals are on the Internet. That's a given. But to qualify for them, you have to complete your transaction on the Web. Failure to do this could result in you paying full retail, which defeats the purpose of shopping the "net."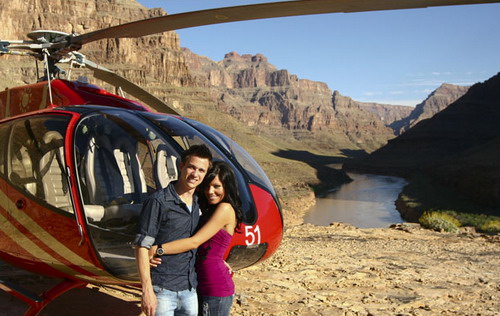 Conclusions
This is a "mini" survey of the kinds of Grand Canyon sunset helicopter tours available. I limited the scope Papillon Helicopters and Maverick Helicopters and their flights because I trust their product, think highly of their customer service and LOVE their prices. The companies offer sunset flights from Las Vegas and Grand Canyon, AZ, locations from which they serve the West Rim and the South Rim, respectively. Indeed, you can opt to book the last flight of the day, but from my experience, that's a risk as tour companies use most of their fleet at this time for sunset tours. Remember, too, that hese trips are very limited and very popular and so I recommend that you book them a week or two in advance. And don't just hop on any deal that comes your way. Go direct to the source for the best price - just be sure to complete your transaction online in order to get the Internet discount.
Have a grand day,

P.S. I rate the top 3 Grand Canyon helicopter tour companies that fly out of Las Vegas, NV. Click here to see who's my #1 choice. .
Tweet
Follow @keithkravitz