Deluxe or Basic Helicopter Tour?

Sometimes things are not as they appear. This is most definitely the case when it comes to basic and deluxe helicopter tours. On the surface, basic flights are cheaper. But when you add up all the perks, the deluxe flights are actually the better value.
How so?
Let's start with Las Vegas departure points. Go basic, and it's highly likely that you'll fly out from Henderson, NV, or Boulder City, NV. You'll also be in for a 40-minute shuttle ride. That's not bad considering the savings you'll net. But go deluxe and you'll depart from the Las Vegas Strip, which is a 10-minute ride from most major resorts.
The Strip
Another great thing about departing from the Las Vegas Strip is that you get to fly over it from top to bottom on the return leg of the tour. Specifically, you'll go from the Stratosphere Tower to the Luxor. That's a HUGE bonus and the only air tour I know of that combines the Canyon with Las Vegas Boulevard.
Hotel transportation, too, is different. Basic tours use a conventional shuttle van. They're spacious and comfortable and get the job done. Deluxe tours, by contrast, use a fully appointed luxury limousine. You'd think this alone would jack up the price of a deluxe tour but in reality it's negligible.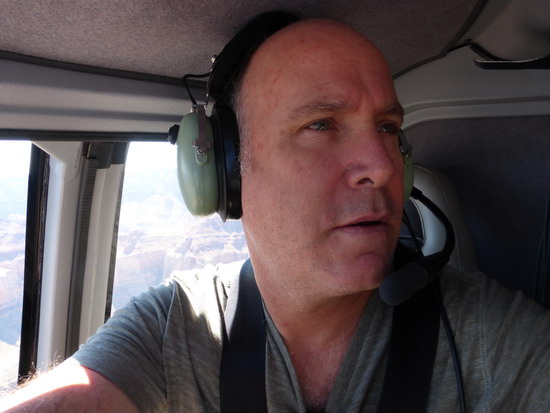 Then there are the helicopters themselves. Basic tours will most likely use a Bell Ranger. These are terrific little aircraft. However, it can be a tight fit and there's the off chance that you'll get assigned to a rear-facing jump seat, which isn't bad, but facing forward is preferable.
Deluxe tours, on the other hand, use the EcoStar 130. This is the most superior helicopter flying today. It boasts a cabin that's 25 percent larger than the Bell's. It also features a 180-degree wraparound windshield and is configured with stadium-style seats so everyone's got a great view.
Now, every helicopter tour has a basic and deluxe version. Here's a quick look at which ones merit your consideration:
Las Vegas
Air only - The basic is the cheapest tour available. But I recommend the deluxe with limo and Strip flyover.
Landing - I strongly recommend the bottom landing tour with limo & Strip flyover. Nothing else comes close, unless you want to do it at sunset.
South Rim
There are only two kinds from which to choose: The 30-minute and the 50-minute tour. I'm a solid supporter of the 50-minute deluxe. It's the only way to go. Do it and you'll have seen up to 75 percent the National Park in less than 1 hour.
More and more travelers are discovering the benefits of flying deluxe. As such, these flights are now selling out on a regular basis. My suggestion is to book them at least a week or two in advance. Do not wait until you arrive in Las Vegas or at South Rim because you'll pay more. Further, there's a strong chance you won't get a flight.
Save Money
As always, book these flights online. That's where the deals are. Currently, we are in the summer season and prices are slowly increasing. This is especially true if you book over the phone because you'll be quoted (and billed) full retail. Instead, purchase online and you'll be assured of getting a rate that's at least 30 percent cheaper than the phone rate.
On the issue of summer: Folks, it's hot and it will get hotter. Temperatures at the West Rim, which you'll fly to if you depart from Las Vegas, are now officially over 100 degrees. They will not go down until October. South Rim, too, is heating up. Yes, helicopters are equipped with great climate control, but if you are on a tour that lands, you'll be stepping outside so dress accordingly.
So what to wear, right? I suggest you bring a hat with a brim, sunglasses, sun block, a lightweight long-sleeved shirt and water (you must stay hydrated). A pair of running shoes is a great idea. You might also want to bring some salty snacks like trail mix. Final note: I've been wearing a lot of shirts made of wicking material and it works like magic!
Free E-Book
I also want to let you guys know that the Grand Canyon helicopter e-book is now available. It's free of charge and has been updated with the latest information about air tours from Las Vegas and South Rim. Go here to get your copy. If you can't open the document (it's a PDF file), email me at grandcanyonkeith AT gmail.com and I'll assist.
Have a great flight!
Have a grand day,

P.S. I rate the top 3 Grand Canyon helicopter tour companies that fly out of Las Vegas, NV. Click here to see who's my #1 choice. .
Tweet
Follow @keithkravitz