Papillon or Maverick?

Papillon Helicopters and Maverick Helicopters are the only two companies you should be considering for a Grand Canyon air tour. Compared to the competition, their trips are vastly superior. However, compared against each other, there are significant differences. Understanding what makes these companies special will help you decide which is right for you.
Types of Helicopters
This is the biggest differentiator. Papillon's fleet is comprised of a mix of choppers including Bell Rangers, AStars and EcoStar 130s. Maverick, by contrast, uses only the EcoStar. Let's dig a little deeper...
Papillon uses the Bell Ranger and the AStar for Las Vegas Strip flights and value-priced landing tours. These helicopters are solid and dependable but they have quirks. The Bell Ranger, for example, has a rear-facing bench seat, and the Bell and the AStar come with smaller, more compressed cabins (e.g. less personal space). They're also a tad noisy even if you are wearing a noise-canceling headset.
The EcoStar is a whole different animal. It's aerodynamic design lets it cut through the air like a knife, resulting in an incredibly smooth rid. Its tail rotor is a Fenestron, which is designed to reduce noise by up to 35 percent. But the real benefits of an EcoStar are these:
25 percent larger cabin;
180-degree wraparound windshield;
Individual bucket seats configured "stadium style" and all facing forward;
Superior climate control (important during 100 degree summers and 35 degree winters!).
Papillon's fleet includes the EcoStar but you aren't guaranteed to be on one unless you take one of the higher-priced landing tours that depart from the Strip or Boulder City, Nevada. Maverick, which operates the largest fleet of EcoStars in the world, only flies the EcoStar so your are guaranteed to be aboard one.
For more on this subject, here's an authoritative article I just wrote about tour helicopters.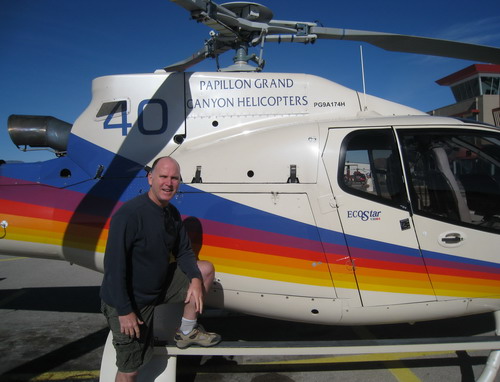 Air Terminals
Location is key, especially considering how bad Las Vegas traffic can get. Papillon conveniently has a terminal located just off The Strip on Tropicana Avenue, right next to Las Vegas' main airstrip. It's about 10 to 15 minutes away from all major resorts. The issue, however, is that a limited number of flights depart from it (sunset tours, a few landing tours, and all of the company's 15-minute Strip helicopter rides). The majority of Papillon's flights depart from it's private terminal in Boulder City, Nevada, which requires a 35-minute shuttle bus commute. Is it worth the ride? Yes, because it's the primary reason why Papillon's tours are cheaper than Maverick's (and everyone else's for that matter).
Maverick's main terminal in Las Vegas is on The Strip. In fact, it's across the street from Mandalay Bay and accessible from any major Strip resort within 10 minutes. The company also owns its own terminal in Henderson, Nevada, which is 10 minutes south of its Strip headquarters. Like Papillon's, Maverick's South Rim air terminal is located in the Grand Canyon National Park Airport Complex, which is just 10 minutes south of Grand Canyon Village. The common theme among all of Maverick's terminals is luxury. Go into any one of them and you feel like a VIP who's gained access to a luxurious lounge outfitted with plush leather chairs and couches, parquet floors and recessed lighting. Unlike Papillon, there are no crowds - just travelers who are willing to pay a premium for superior service and a superior product.
Types of Tours
Papillon and Maverick offer a great selection of tours. However, Papillon's line up is much more diverse, especially when it comes to landing tours. For instance, Papillon has a West Rim trip that goes to the bottom, includes a boat ride down the Colorado River and all-access tickets to the Grand Canyon Skywalk. At South Rim, Papillon offers a number of creative packages, the most impressive are the sunset Jeep safari and the National Park Harley Davidson motorcycle ride.
Sunset tours are very popular and both companies offer them. Papillon's are cheaper, particularly the one that departs from its Strip terminal and lands on the bottom for a picnic. Maverick, however, offers more sunset departures so you're nearly guaranteed to find availability if you decide to go within 24 hours. I also like the Maverick sunset air tour that detours over the Valley of Fire on the way back to Vegas from the canyon.
Maverick leads the pack when it comes to charter and group tours. In fact, nobody does helicopter weddings like Maverick. Further, the company is usually the first one film production crew's call upon when they need to charter an aircraft. Corporate events is another one of the company's strengths, and I'll go on the record recommending Maverick if you plan to celebrate a special event like a proposal, an anniversary or a vows renewal.
Las Vegas Strip flights last just 15 minutes but they are extremely popular with travelers. Papillon's tours are the cheapest but they are only available during the day. Maverick's cost a little more and they are available day and night. Further, unlike Papillon, Maverick uses the EcoStar on these tours, which is crucial as you fly over such world-famous landmarks like:
Paris' Eiffel Tower;
The Bellagio Fountains;
The Luxor Pyramid;
The Stratosphere Tower
...and much more!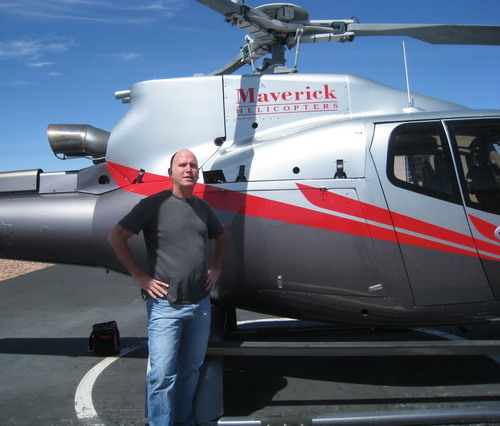 Value
Papillon is your value leader and nobody beats their prices. How does Papillon stay so affordable? Volume. Each year, the company transports more than 500,000 people to the Grand Canyon. That's a lot of business, and that's one of the reasons why they have such great prices. The other reason is their Boulder City terminal - the cost to fly out of Boulder is cheaper than out of Las Vegas. This economy of scale also benefits South Rim pricing, too. Don't expect Maverick to ever match Papillon's prices. Why? Because Maverick targets the 5-star traveler who is primarily interested in quality, personalization and luxury.
Reservations & Deals
Tours offered by these companies are in high demand. These trips regularly sell out during spring, summer and fall. So, if you're serious about taking a safe and fun helicopter tour, you need to book it at least a week in advance. I urge you not to wait until the last minute, and I don't advise booking a helicopter tour once you arrive in Las Vegas or in Tusayan. If you do that, several things can happen:
You'll pay more for the flight;
You won't get the flight you want;
You won't get the flight time you want (mornings and sunset are best).
In addition to advance reservations, you can also save money by purchasing your tour online. Papillon and Maverick have excellent websites that feature safe and secure online booking forms. Expect to save up to 35 percent over the retail price if you purchase direct from these companies. Avoid buying from third-party travel sites like Expedia, Priceline and Orbitz. You will pay more, and the cancellation policy will not be as generous as the one you'll get from Papillon and Maverick. Make absolutely sure you complete your transaction on the Web. Failure to do this can result in you paying full retail price.
Conclusion
Papillon and Maverick are the best Grand Canyon air tour companies in operation today. They have the best safety records, tour selection and prices. That said, if you are looking for great value, go with Papillon. If you are looking for a 5-star luxury, fly Maverick. Remember to reserve your helicopter ride in advance (by at least a week!). When it comes time to buy your flight, use the Internet. That's where the best deals are. Both companies operated incredibly safe and secure websites, and, in order to qualify for their special Internet discounts, you've got to complete your transaction online. Pick either one of these companies. You'll be 100 percent satisfied.
Have a grand day,

Tweet
Follow @keithkravitz