Deluxe 30-Minute South Rim Tour

Papillon Helicopter's 30-minute tour is the deluxe version of the North Canyon tour. Lots of travelers ask me if it's worth the extra expense and the answer is always "Yes!" And the reason I feel so strongly about the Majestic is the aircraft. In this case, it's the EcoStar 130, which is the absolute finest sightseeing chopper plying the skies today. Here are the key features that make it great:
25% larger cabin
Stadium-style seating
Industry leading climate control
180-degree wraparound windshield
Incredible aerodynamics
Latest tail rotor technology
Without getting technical, the advantages of a larger cabin translate into more personal space. Further, because of the extra space, the chopper is able to be outfitted with rows of forward-facing seats that ensure everyone gets an unobstructed view.
Why is climate control so important? Simple. The canyon - more specifically Grand Canyon National Park Airport, elevation 7,000 feet - gets hot in the summer and cold (as in "snow cold") in the winter. Believe me, you'll be thanking the engineers for this.
The full windshield compliments the theater-style seating configuration. Plus, at 180 degrees, you get great front and peripheral views. The heli's aerodynamics significantly increase flight stability and let the chopper cut through turbulence like butter. Lastly, the EcoStar's tail rotor drastically reduces noise - a big deal if you've ever ridden in other models of helicopters.
Points of Interest
The Majestic is a 30-minute flight that goes from the South Rim to the North Rim and back. En route, you'll see:
Kaibab National Forest
The North Rim
Historic Grand Canyon Village
The Colorado River
Phantom Ranch
The Tower of Ra
The Dragoon Corridor (widest, deepest section of the canyon!)
It's amazing how much you'll see on the Majestic. By my estimation, it will take a traveler on the ground more than a week to see all that you've witnessed in 30 minutes. Or, to continue putting things in perspective, it takes 5.5 hours to drive from the South Rim to the North Rim. Now that's a big deal IMHO!
Please note that Papillon's Majestic is not available from Las Vegas, NV. The South Rim is out of flying range for Las Vegas-based helicopters (all of which service the West Rim of the canyon where choppers are permitted to fly below the rim and land on the bottom). That said, if you are based in Vegas, I recommend you consider this South Rim airplane/helicopter combo package.
The Majestic is a great trip to take if you are coming up from such Arizona cities like Phoenix, Scottsdale, Sedona and Flagstaff. I recommend driving yourself to the National Park, which from Phoenix, for example, is a 4-4 1/2 hour drive. The road is well maintained and directional signage is easy to understand. Here's a Google Maps link showing the route:
Book It Today!
I recommend that you book the Majestic in as far advance as you can. Definitely avoid trying to make reservations within 48 hours of your desired departure date and time. This particular flight has become very popular and constantly sells out. I've heard of people getting same-day seats but it's rare and in some cases these folks had to fly on separate aircraft.
By making your reservations in advance, you achieve several things:
Lower prices
More selection
Best flight times
I'll get to lower prices later in the article. Right now, I want to focus on best flight times, which is really important. The best time to fly is in the morning. Here's why:
Better visibility
Smoother air
The other great time to fly is toward the end of the day, especially during summer when forest fires and dust ironically come together and intensify sunsets over the gorge. However, all this talk about best time to fly is moot if you fail to book your trip in advance because the "prime time" flights I just identified are the first ones to sell out.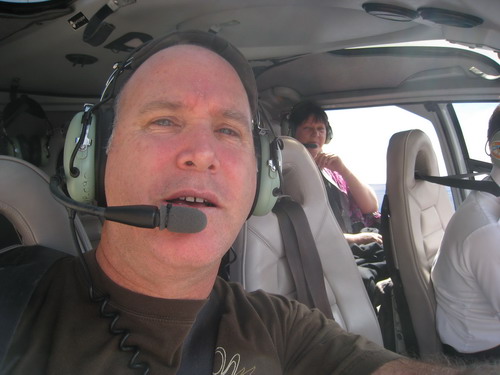 Everyone wants the lowest price and I don't blame them. I'm out there just like you getting them for friends, family and readers just like you. I could talk all day about this subject but the key thing to know at this juncture is to purchase your tour from a supplier like Papillon.
Bargain Hunting
I've met hundreds of people who have spent countless hours hunting down the best price on the Internet. They eventually come to me tired and frustrated. My advice is always the same: buy direct! I hope I've made my case. If I haven't, email me at grandcanyonkeith@gmail.com and I'll go into more detail. In addition, if you need assistance with a booking, call me at 1-702-530-8687 and I'll get it for you at no additional cost.
I hope you get a chance to visit the Grand Canyon, and that I've been informational enough to share with you the benefits of taking Papillon's Majestic Helicopter tour.
Have a grand day,

P.S. I rate the top 3 Grand Canyon helicopter tour companies that fly out of Tusayan/South Rim - Arizona. Click here to see who's my #1 choice. .
Tweet
Follow @keithkravitz