Land on Bottom w/ Champagne Picnic

The Grand Celebration Tour is the most popular helicopter ride from Las Vegas. It takes full advantage of the fact that West Rim helicopter flights are the only ones allowed to fly below the rim and land at the bottom. Making this trip even more special is that it includes a Champagne brunch/lunch. This package sells out regularly, especially during summer. Booking at least a week in advance is strongly encouraged.
Itinerary
Departure is from the Boulder City Municipal Airport, located just 30 minutes from the Las Vegas Strip.
En route, you'll fly over fabulous Lake Mead, the largest man-made reservoir in the U.S., and Hoover Dam, one of the most iconic images of the American West.
Flight will continue over a 600-year-old Joshua Tree forest and some of the most pristine stretches of the Mojave Desert you'll ever see.
The descent starts after hovering over Grand Cliffs Wash. In all, you'll go a mile below the rim, which takes approximately 10 minutes.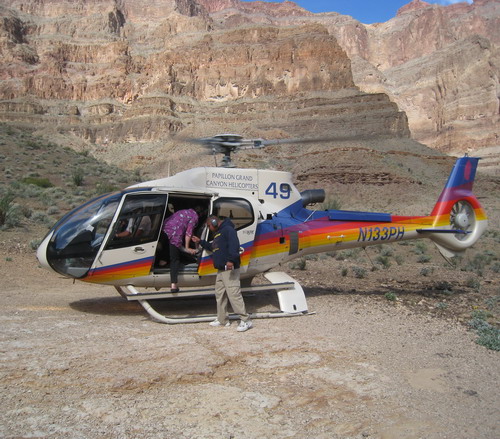 Landing is at one of the makeshift helipads located just 200 yards from the legendary Colorado River. Safely on the ground, a Hualapai Indian host will direct you to a Ramada where your Champagne brunch/lunch awaits.
Time at the bottom of the canyon is approximately 30 minutes. You are free to explore the general area, home to some of the oldest exposed rock on the planet. Make sure to follow the path to the riverbank (ask you pilot for directions).
The ascent is just as exciting as the descent. You'll see hidden side canyons, supernatural rock formations and colossal cliffs. The chopper will pass the Grand Canyon Skywalk, a glass structure that lets you walk 70 past the edge, before returning to the airstrip in Boulder City.
Total tour time: 4 hours
All-Inclusive
This is an all-inclusive tour and comes with the following:
Free door-to-door hotel shuttle service
ECO-star 130 Helicopter (Deluxe!)
Champagne brunch/lunch
Trip narration in up to 10 languages
Seating is determined by weight. Front-seat upgrades are available at extra cost.
Helicopters hold up to 6 people. If your party is larger that that, you will be split but your flights will depart at the same time.
What to Bring & Wear
Dress comfortably and according to the season in which you'll be flying. Summer travelers should consider bringing the following:
Hat (with brim)
Sunglasses
Sun block
Sturdy shoes (running shoes, boots are fine)
Lightweight, long-sleeved shirt
Shorts are fine as are lightweight pants
Water (stay hydrated!)
Tip for pilot (optional)
Winter travel temperatures are moderate. Consider packing along the following:
Hat (with brim) or beanie
Sunglasses
Sun block
Sturdy shoes
Medium-jacket
Long-sleeved shirt
Pants
ChapStick
Tip for pilot (optional)
It's a gorgeous tour and there are lots of photo opportunities. Definitely make sure your personal electronics (e.g. camera, video camera, smart phone) are fully charged and you have enough room for additional images.
Cancellation policy: Get a full refund if you cancel your flight 24 hours prior to take off. Weather cancellations also get a full refund.
Have a grand day,

P.S. I rate the top 3 Grand Canyon helicopter tour companies that fly out of Las Vegas, NV. Click here to see who's my #1 choice. .
Tweet
Follow @keithkravitz