Land on Bottom, Sunset Picnic & Vegas Strip Flyover
Tips & Details:
Book at least 2-3 weeks in advance.
Front-seat upgrade available.
Helicopter: EcoStar 130
Free hotel pick up and drop off by limousine!
Includes lunch.
Front-seat upgrades available.
Very limited. Often sold out.
Price includes all taxes, fees, surcharges.
Price: $$$

There's nothing more romantic or awe-inspiring than a Grand Canyon sunset helicopter tour - particularly the Grand Celebration Sunset Las Vegas trip. I love this tour because you get the near-dusk majesty of the canyon and the neon-excitement of the Las Vegas Strip. Whether you're out to impress or you're in search of the ultimate Vegas adventure, this is the tour you most definitely want.
Schedule
This version of the Grand Celebration departs daily at or around 5 p.m. There's typically one departure time per day, with more coming on board during longer summer days. So be warned: seating is extremely limited. If this tour is sold out, you might find one at Maverick.
Most of Papillon's flights depart from Boulder City, which is a 30-minute shuttle ride from Vegas. This tour, however, leaves from the company's exclusive airfield adjacent to the Las Vegas Strip. The benefit here is that you spend more time on pleasurable things and less on logistics.
Like all West Rim bound flights, the Grand Celeb heads directly toward Lake Mead, the largest man-made reservoir in the U.S. Then it banks south and before you know it you're over Hoover Dam, a towering structure that spans the depths of Black Canyon. Pushing onward, you'll fly over the Mojave Desert for about 15 minutes before making for the bottom.
Like a Snake
The descent is one of this trip's most memorable highlights. It starts once you crest Grand Cliffs Wash. From there, you'll feel as if you've quite literally entered a land that time's forgot. The Colorado River, the serpentine waterway that created the canyon, slithers below you. Canyon walls rise out of nowhere, getting larger and larger as you press forward.
Up ahead, you'll see an orange windsock. That's where a series of dirt helipads are located. You're pilot will land on one of them, and once you touch down, a Hualapai Indian guide (the West Rim is located on the Hualapai Indian Reservation) will assist you out of the aircraft. Remember to keep your head low on exit as the chopper's propeller is still whirring above!
You'll walk about 200 feet to an authentic Indian Ramada where you'll indulge in a Champagne picnic. It's also refreshingly cool there during summer when temperatures are over 100 degrees, even towards day's end. This trip includes 30 minutes to stretch your legs and explore the base, and I wholeheartedly recommend you take advantage of that. One place I enjoy visiting is the river: there's a gentle path through a grove of Salt Cedars that will take you there.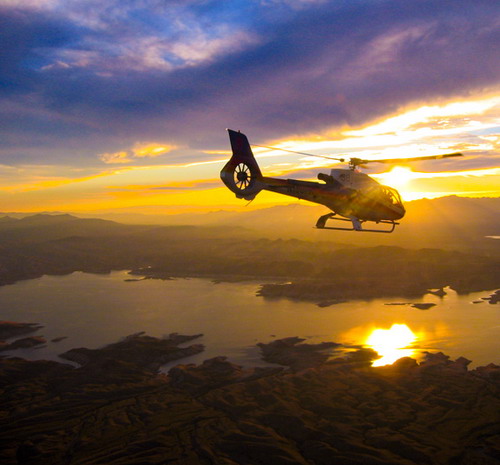 Golden Hour
Right now you're in the "golden hour," the time when the canyon is bathed in an ethereal light you'll remember for a lifetime. Shadows are more refined. There's a stillness to the air. The river is louder, as are all of nature's random noises. You're in Nirvana if you're a photography buff because every picture you take will be a "keeper." I've taken this tour a lot and I often find myself either riverside or on a lonesome boulder locked in serene contemplation.
The direction of the ride back is subject to change. For the most part you'll bear deeper into the canyon, before turning south into a side canyon that supports the world-famous Grand Canyon Skywalk. For those of you unfamiliar with the "glass bridge," it's the world's largest all-glass cantilevered structure. It's deck, made up of more than 40 specially made glass panels costing $250,000 each, lets you walk 70 feet past the edge. At the bridge's farthest point you'll be standing 4,000 feet over the bottom!
Neon Lights!
Sunset is in its final stages as you strafe the desert back to Vegas, the city lights glittering ahead of you. Flight time from the West Rim to The Strip is about 45 minutes. Time goes quick, too, as choppers propel forward at more than 200 MPH! Here the aircraft will start setting itself up for a cruise over Las Vegas Boulevard, the world's most famous cityscape. The accolade rings true as you start by flying past downtown's Stratosphere Tower (tallest structure West of the Mississippi) as well as:
Mirage's volcano;
Treasure Island's pirate ship;
Paris' Eiffel Tower;
Bellagio's lake;
New York New York facade;
The MGM lion;
The Excalibur Castle;
The Luxor pyramid
The chopper alights back on Papillon's exclusive Strip airfield where your adventure started. Total tour time from hotel pick up/drop off is 4 hours - perfect for those who plane to enter back into the Entertainment Capital of the World and see what the night has in store.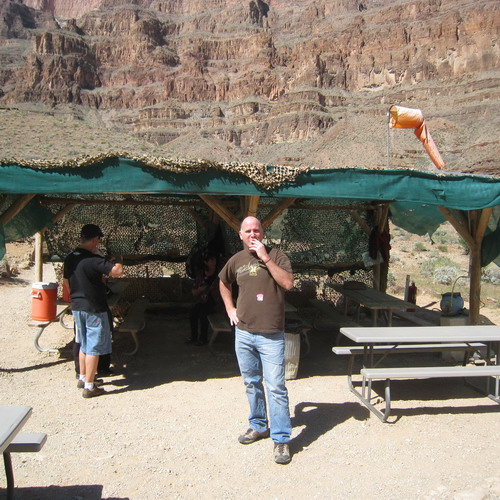 RSVP
I know I mentioned this earlier but I believe it merits more attention. Regardless if you take this helicopter tour or a different one, you need to always book in advance. Rule of thumb is to do so at least a week ahead of time. Heck, if you can squeeze in two weeks before you desired departure time, do it. Chopper flights in general are extremely popular, especially during the summer months and it's not uncommon for them to sell out. Beside, there's a number of benefits to booking early like:
You'll actually get a seat on limited flights like the one profiled on this page;
You'll have more days from which to choose;
You'll avoid stressing about trip plans during your vacation;
You'll save money.
Let's now get the "what not to do's" out of the way, too:
Never book within 24 hours;
Never try a same-day booking;
Don't purchase your trip from a Strip kiosk or hotel concierge.
Taking the above tips to heart will ensure you get on a sunset tour and that you do it at a decent rate.
Deals
But why stop there. Let's get a better deal. How so, you ask? Simple. Book your tour online. Of course, there are a few caveats. The first is to stay away from "big box" travel sites like Orbitz, Travelocity and Priceline. Like a new car salesman, they'll promote a tour you like at an incredibly low price. The trick is they only have one of those. The rest are off-the-charts expensive. Don't tolerate that. Instead, go direct to the source: the tour supplier. These are the folks that have unlimited inventory and don't play games with pricing (because they don't have to!). The only thing you need to be cautious about here is:
"Always complete transaction online in order to qualify for Internet discount. If you don't follow this to a "T," you'll get slapped with full retail pricing!"
Burn that into your memory because it alone can and will save you up to 30% on flights.
Conclusion
The Grand Celebration Sunset Las Vegas Strip tour is one for the ages. The beauty of the canyon and the desert at dusk is magical and I hope you experience it. The flight to and from is equally fascinating as they go over Hoover Dam, the Grand Canyon Skywalk and the bright neon lights of the Las Vegas Strip. But do book this flight in advance - seating is very, very limited. Further, make sure you book it online direct, with the final coup de grace being that you complete the transaction online. Simply doing this will drop the price of this tour (and pretty much all others) by up to 30 percent. So, here's to romance and adventure, and may you find both on the Grand Celebration!
Have a grand day,

P.S. I rate the top 3 Grand Canyon helicopter tour companies that fly out of Las Vegas, NV. Click here to see who's my #1 choice. .
Tweet
Follow @keithkravitz