Las Vegas Airplane to South Rim with Helicopter & Bus
Tips & Details
Tour duration: 9.5 hours.
Aircraft: 19-seat deHavilland Twin Otter.
Helicopter: 6-seat Bell Ranger
60-minute flight from Vegas to South Rim.
30-minute rim-to-rim helicopter ride.
Includes lunch.
Includes hotel pick up & drop off
Price includes all taxes, fees, surcharges.
Price: $$

Papillon's Las Vegas-South Rim airplane/helicopter combo is probably the best value South Rim tour operating out of Las Vegas, NV. It combines a direct airplane flight to Grand Canyon National Park with a rim-to-rim helicopter ride plus a 2.5-hour in-park bus tour. Add it all up and this is a terrific package!
The Deluxe Helicopter trip takes off every day of the year, including all major U.S. holidays like Thanksgiving and Christmas. Departure times are throughout the day until about 2 or 3 pm in the afternoon.
The flight heads easterly over Lake Mead, the largest man-made lake in the country, and Hoover Dam, a modern-day marvel of 20th Century engineering, before entering Grand Canyon West airspace and bearing south before using the Colorado River as a guide.
Direct Flight
There are no stops during this flight. It's a direct 45-minute ride that will take you over a good portion of the National Park before landing at Grand Canyon National Park Airport (GCA). By contrast, if you self drive or take a bus tour to the South Rim, expect to spend about 5.5 hours on the road!
On the ground, you'll be transferred to an A-Star helicopter. Seating is decided at time of departure because helicopters require an equal distribution of weight. Indeed, you can purchase a front seat upgrade, but in my opinion this is fruitless as seating is random (it also means you might get the front anyhow without paying extra).
The helicopter takes off over Kaibab National Forest, home to the largest stand of Ponderosa Pine in the U.S. Before you know it, the plateau falls off beneath you and you are officially in the Dragoon Corridor, the widest, deepest portion of the National Park. The flight turns back at the North Rim, with the descent starting at Grand Canyon Village.
(Interestingly, if you were to drive from the South Rim to the North Rim, it would take you about 5.5 hours. Further, the North Rim is closed to vehicular traffic after mid-October, so seeing it is really only possible via helicopter or airplane.)
Next, you'll transfer to a deluxe luxury bus and start the in-park tour. These coaches are the height of luxury, featuring on-board restrooms (great if you have kids), plasma TV's, rock-solid climate control, recliner style seats and lots of personal space.
The bus, which features your driver as your guide, makes a number of stops wherein you have the option to get off the bus and explore. Among the key landmarks that are usually visited, you'll see Yaki Point, Mather Point and Yavapai Observation Station. The ground tour concludes with a stop at Grand Canyon Village, the South Rim's commercial hub featuring gift stores, restaurants, museums and art galleries.
South Rim
The bus ride from the South Rim to the airport is around 15 minutes. En route, you'll pass through the small town of Tusayan, home to a number of curio shops and the National Geographic IMAX Theater. Drop off is at the main terminal, where you'll be escorted to your airplane for the flight back to Las Vegas.
Total tour time: 9.5 hours
The airplane used to transport you to the National Park is safe and comfortable. I get lots of emails from readers asking about this. Rest assured, you are flying with a company that has a 5-star safety record. Moreover, these planes are quite large, hold up to 19 adults and are flown by two pilots.
Vistaliner
Each plane has been customized from nose to tail for sightseeing. Specifically, the viewing windows are larger than what you get on a conventional aircraft, and the wings are attached to the top of the cabin in order to provide everyone with unobscured views of the scenery below. Seats are lounge-style and each passenger gets a personal set of headphones in order to hear a narration that's been translated into over 10 languages.
The Deluxe Helicopter tour is all-inclusive and comes with free hotel pick up/drop off, lunch, driver/guide, pilot/guide, in-flight narration (plane and helicopter) and all Park fees and taxes. In other words, this is an adventure where all you quite literally need to do is show up.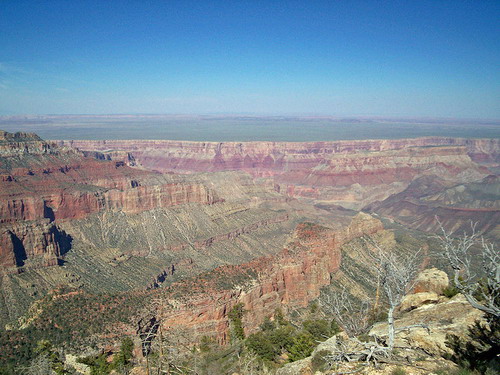 That said, I do recommend that you take your time of travel into consideration. Summer or winter, you need to bring water, sun block, a hat and sunglasses. During summer, dress comfortably in shorts, a lightweight long-sleeved shirt and sturdy footwear. Winters get cold so wear pants, a medium weight jacket, gloves and good shoes.
Always reserve this flight in advance. It sells out regularly, especially during the summer months. I don't recommend waiting until the last minute or when you arrive in Las Vegas. First, there's a good chance the flight will be unavailable. Second, you'll pay more just like you would if you were taking a commercial airplane flight.
Deals
The best deals on this South Rim airplane/helicopter tour are on the Internet. However, as we all know, all deals are not created equal (special fees, restricted flight times, black out dates, etc.). Take the hassle out of shopping by purchasing this trip direct from Papillon. The company always offers it at the lowest rate because they operate it. And remember, always complete the transaction online in order to qualify for the Internet discount. Failure to this might result in you paying full retail.
Have a grand day,

P.S. I rate the top 3 Grand Canyon helicopter tour companies that fly out of Las Vegas, NV. Click here to see who's my #1 choice. .
Tweet
Follow @keithkravitz