Grand Canyon Helicopter & Rafting Tour from Las Vegas
Tips & Details:
Tour duration: 10 hours.
Helicopter: 6-seat Bell Ranger
Raft: 19-passenger motorized pontoon raft
Fly to bottom and land for 30 minutes.
11-mile float trip (Hoover Dam to Willow Beach)
Includes lunch.
Includes all gear.
Includes hotel pick up & drop off
Price includes all taxes, fees, surcharges.
Price: $$$$

There are surprisingly few float tours originating out of Las Vegas. No big deal, though, especially when you've got Papillon's Colorado River Voyage from which to choose. This trip combines the best of both worlds, combining a helicopter flight to the bottom of the Grand Canyon with a terrific water-rafting adventure that shoves off from the base of Hoover Dam!
The Trip
The tour is seasonal and runs from March through November. It leaves once a day at 7 a.m. and returns to Las Vegas around 6 p.m. The package includes free hotel shuttle service to and from all major Strip hotels. Exactly where you get picked up is determined after you make your booking online.
The helicopter segment is first, and it departs from Boulder City Municipal Airport, which is about a 30-minute drive from Vegas. Check in is fast and before you know it you and five other passengers are buckled up and hovering over the Mojave Desert.
You are now heading in an easterly direction. On the left side of the chopper is Lake Mead, the largest man-made reservoir in the U.S. You'll pass Fortification Hill, an extinct volcano, before flying over Hoover Dam, an engineering marvel built in the 1930's to tame the roaring Colorado River.
Grand Canyon airspace is denoted by the Grand Cliffs Wash. Here starts the 4,000-foot descent to the bottom of the West Rim. Your helicopter will land on a dirt heli-pad near the river. In most cases, a Hualapai Indian guide will escort you off the aircraft and over to a Ramada where you'll enjoy a Champagne brunch. Time to explore the bottom is 30 minutes.
The flight out is just as extravagant as you go past Guano Point (also know as the Bat Cave) and Eagle Point, which sits directly in front of the Grand Canyon Skywalk, the glass walkway that lets you walk a startling 70 feet past the edge of the West Rim. Then you'll bank West, land at Boulder Municipal, transfer to a bus and make your way to the base of Hoover Dam for your rafting trip.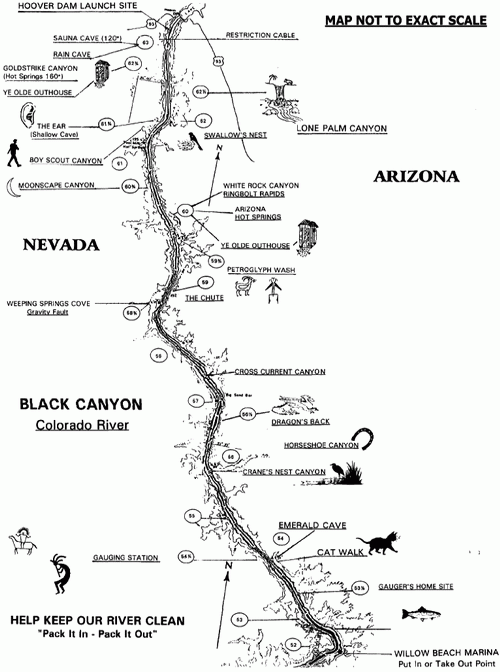 Personally, being at the base of the dam is one of life's greatest moments. You don't realize how massive Hoover is until you're at ground zero. Here you'll board your motorized rubber pontoon raft and cruise through the sheerness of Black Canyon. You'll float on for 11 miles until you reach Willow Beach in Arizona. Wildlife is abundant, so keep your eyes peeled. And, of course, swimming is permitted at designated stops, so pack a suit.
This is an all-inclusive tour and comes with free hotel transfer, breakfast, lunch and all park fees.
Total tour time: 10 hours.
What to Wear & Bring
Spring is relatively mild. Summers are scorching hot. I always tell friends and family to be prepared. As such, I recommend you wear the following:
Hat
Sunglasses
Shorts
Long-sleeved, lightweight shirt
Sport sandals or running shoes
You most likely will get in the water so pack a bag with dry clothes and a towel. I also stuff a few plastic bags into the mix for wet clothes.
I also suggest you bring:
ChapStick
Sun block
Water
Remember, summer temperatures break 100 degrees regularly, so the idea is to stay hydrated. Understand, too, that this sun is hot and you will sunburn if you don't take precautions.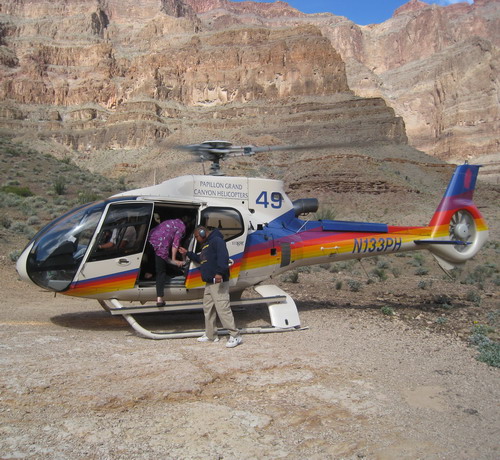 RSVP
I get the question all the time: "Is it better to book my Las Vegas rafting tour when I'm in Vegas?" No. It's not. These trips are popular and sell out, especially because they leave once a day. You also won't save any money booking at the destination. The best thing you can do is to book at least a week ahead of your desired departure date via the Internet, which is where all the deals are anyhow.
As far as the cancellation policy is concerned, you can cancel 24 hours prior to departure and get a full 100% refund. Weather cancels are also entitled to a full refund. You can also reschedule 24 hours out, but like I said earlier, it's going to be tough to get seats.
Have a grand day,

P.S. I rate the top 3 Grand Canyon helicopter tour companies that fly out of Las Vegas, NV. Click here to see who's my #1 choice. .
Tweet
Follow @keithkravitz