30-Minute Helicopter & Jeep Tour

Papillon South Rim has a great new tour called the Air Land Sunset Safari. Basically, it combines the North Canyon helicopter tour with a 4x4 Jeep Safari that goes to places in the National Park that only locals know about. I get a lot of requests about this package and wholeheartedly give it two thumbs up especially if you're looking for a unique canyon adventure.
30-Minute Helicopter Ride
This trip kicks off with an awesome chopper ride. The aircraft departs from Grand Canyon National Park Airport, located only 10 minutes from Grand Canyon Village (directions below), and goes north. You'll be over the lush Kaibab National Forest for several minutes before reaching the edge of the rim.
The sensation of leaving "terra firma is phenomenal. Here's a great YouTube video that spotlights this flight:
I always feel like I'm riding the back of an eagle on this tour! The highlight is flying through the Dragoon Corridor, the widest and deepest part of the canyon. You'll turn back at the North Rim, which is an amazing feat in and of itself considering it takes nearly 5.5 hours to drive there from the South Rim/Grand Canyon Village.
It's impossible to determine where you'll sit on the heli prior to take off. This is because seating assignments are made during the safety check, which takes place on the tarmac prior to boarding (oddly, you're still required to wear a belt with an inflatable floatation device attached to it). You can purchase a front seat upgrade, but it's totally dependent on the cumulative weight of the passengers.
The Jeep Safari
Deplaned, you'll head back to your vehicle and make the short drive (3 minutes) to the Jeep. These off road rigs are classified as 4x4 Safari vehicles and are equipped with 12 bucket seats that rest under a retractable canvas roof that includes roll-down plastic windows if the weather gets frisky.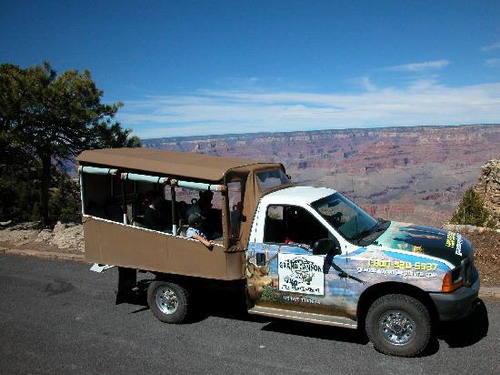 The Jeep motors through the same beautiful Kaibab Forest you just helicoptered over. It bears east, using the South Rim as a guide before going off road and stopping at a Fire Watchtower. Climbing to the top is optional but I recommend you do it as the views are spectacular and include Zuni Corridor, North Rim, Painted Desert, the San Francisco Peaks and much more.
Back on the prowl, you rumble back into the National Park that's frequented by the general public. This is where you guide is essential as these guys know as much about the area's history, geology and wildlife as a Park Ranger does. Depending on how you're doing for time, you'll check out Mather Point, Yavapai Point, Grand View Point and Moran Point.
The final pull-out will be the sunset stop. Dusk at the Grand Canyon is an incredible sight and is one of the top reasons why many of the 5 million travelers who visit the Park each year make the trek. Personally, I like to enjoy the moment. Most people will want to photograph it, and I strongly recommend doing just that because the lighting is downright magical. Then it's back on board the Safari truck for the ride back to the airport complex.
Total tour time: 4 hours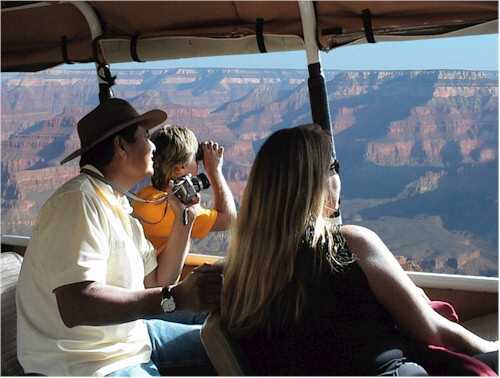 Getting There
The Air Land Sunset Safari tour is only available from the South Rim. It's a great option for travelers starting out from such central Arizona cities like Phoenix, Scottsdale, Sedona and Flagstaff. This tour is not available if you're starting point is Las Vegas, NV. The tour starts mid-afternoon from Grand Canyon Airport. Here's Google Map directions from select AZ cities:
Phoenix
http://goo.gl/maps/MRmWt
Drive time: 3.45 hours

Scottsdale
http://goo.gl/maps/z3IA7
Drive time: 3.45 hours

Sedona
http://goo.gl/maps/G0r5p
Drive time: 2 hours

Flagstaff
http://goo.gl/maps/qnlSw
Drive time: 1.5 hours

Williams
http://goo.gl/maps/Of0Jn
Drive time: 1 hour

Grand Canyon Village
http://goo.gl/maps/Y0bzs
Drive time: 17 minutes
Advanced Bookings
I strongly recommend that you book this tour in advance. Don't wait until the last minute. Give yourself at least 3 days to a week to lock down this trip. The summer months are particularly busy. Due to weather restrictions, the trip is not offered from December through February.
Deals
The best deals are on the Internet. To be more clear, the best deals are purchased direct from the tour operator on the Internet. Too many travelers waste valuable time hopping from site to site looking for the best deal. In the end, they wind up with something that's a tad under the retail price. Don't let that be you. Buy direct and save. Just remember to complete your transaction on the web in order to qualify for that fantastic online discount.
Have a grand day,

P.S. I rate the top 3 Grand Canyon helicopter tour companies that fly out of Las Vegas, NV. Click here to see who's my #1 choice. .
Tweet
Follow @keithkravitz