Cancellation Policies - What to Look For

There are a number of ways to tell if you are dealing with reputable Grand Canyon helicopter tour operator. The key one, in my opinion, is the cancellation policy. Let's face it, traveling is fraught with uncertainties and the best of plans change. It's when you find your back up against the wall that you'll be thankful you selected an air tour company that puts the customer first.
There are a diverse number of tour companies that offer canyon flights. On my site, I've listed my the Top 3: Papillon Helicopters, Maverick Helicopters and Grand Canyon Helicopters. This elite group not only made my cut based on price, quality and safety, but they also wrap an ironclad cancel/change policy around their trips. Let's take a look...
This company has been my #1 pick for quite some time. I don't see that changing, either, as they keep upping their game and launching tours at prices that their rivals can't touch. They also have the best cancellation policy:
If you cancel - Do it 24 hours prior to your scheduled departure and get a 100 percent refund. No question asked.
If you reschedule - Pay nothing to change your dates if done 24 hours before take off.
Cancel due to weather - Two options: Get a full refund or opt to be rescheduled on a flight that fits your time schedule.
The luxury air tour leader, Maverick's been providing impeccable 5-star trips for decades. The company flies from two convenient locations on the Las Vegas Strip as well as a new facility at South Rim. Indeed, Maverick is expensive, but you'll most certainly get what you pay for. Here's their cancel/change policy:
If you cancel - Must be done 24 hours in advance. Failure to show up for a tour will result in being charged in full.
If you reschedule - You'll end up paying a $50 charge per person for Las Vegas Strip tours and $100 per person for helicopter tours (West Rim & South Rim).
Cancel due to weather - No penalty, no fee. Full refund or priority rescheduling, whichever is most convenient.
This is my #3 pick. I use it when flights are full on Papillon and Maverick. Or not. Depends if I want a semi-deluxe helicopter tour via the EcoStar 130, an aircraft that's bigger than conventional aircraft and is equipped with stadium seats. Indeed, Maverick uses the EcoStar, but GCH is cheaper. That said, so does Papillon, which is cheapest in this category. Anyhow, GCH's cancel policy is a lot like Papillon's in that:
If you cancel - Must do it within 24 hours of take off.
If you reschedule - No charge if you beat the 24 hour buzzer.
Cancel due to weather - Money back or get rescheduled on the same tour at a time and day that fits your itinerary.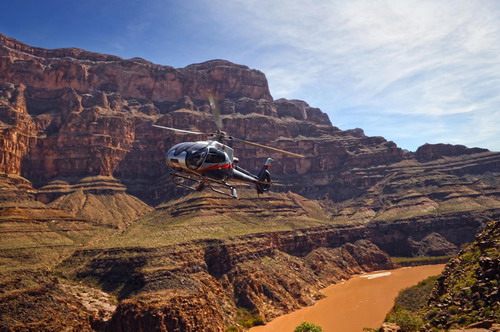 Once you decide on a tour provider, it's time to choose which rim you want to explore. There are two choices: West Rim & South Rim. Travelers departing from Las Vegas, NV, will go to the West Rim, while folks heading up from Phoenix, Scottsdale and Sedona (all cities in central Arizona), will do the South Rim.
I do want to take a time out here and note that Las Vegas helicopters do not go to the South Rim, which is about 275 miles from Sin City and out of range of helicopters. Moreover, there are no helicopter flights between the rims, either. Having said that, Vegas visitors may want to consider this airplane/helicopter package.
The rims are very distinct from each other. The West Rim (elevation 4,500 feet) is dry and arid, while the South Rim (elevation 7,000) is temperate and vegetated. Summer is hot (over 100 degrees!) at the West Rim and mild at the South. Winters are temperate at West Rim while cold and possibly snowy at the South. Moral of the story is to dress accordingly.
There are two kinds of tours at the West Rim: Air and landing. Briefly:
Air tours are great for folks on a budget and/or want a terrific canyon sampler.
Bottom-landing flight with picnic.
Deluxe bottom landing flight w/ picnic, Colorado River boat ride and VIP access to the Grand Canyon Skywalk.
Go here for more detailed information about West Rim helicopter tours.
South Rim helicopters are distinguished by time in the air: 30 minutes or 50 minutes. Flights are not allowed to go below the rim and land on the bottom per federal regulations. I don't have a problem with that because the views are so spectacular. Here's the bill of fare:
30-minute basic/deluxe flight. Goes rim-to-rim, and includes Dragoon Corridor, widest & deepest section of the canyon.
Air tours are great for folks on a budget and/or want a terrific canyon sampler.
50-minute deluxe flight. Comes with all the above plus the East Rim, Imperial Point and the Zuni Corridor.
I prefer the 50 min. trip. It's not everyday you get to fly over the best of the Seven Natural Wonders of the World so you're going to want to do it right. Go here for more info on South Rim heli options.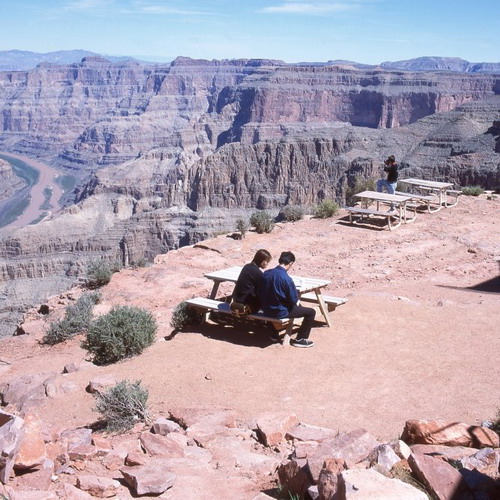 Don't wait until the last minute to book your helicopter tour. If you do, there are several possible outcomes:
You don't get the departure time you want.
You don't get the tour you want.
You pay a premium (e.g. retail) rate versus the online rate.
My rule of thumb is to purchase tours at least 7 days in advance. Even more during the summer when demand for flights is at its peak. To some, I'm sure I sound like I'm over-planning, but I can tell you this: I always get the flight I want at the price I want. Still need persuading? Read my article on why it's advantageous to book in advance.
Last but not least, is the question: "Where are the best deals?" I'm glad to answer this because I'm running into lots of frustrated travelers who spend hours tearing up the Internet only to land a mediocre price. Spare yourself from this. Book direct online from the tour operator. Why? Because:
They have the power to set the lowest prices.
It's in their best interest to run the best promotions.
The key thing you have to remember as you go down this road to savings is to complete the booking online. That mean's hanging on tight to your "virtual" shopping cart until your credit card has been processed and your confirmation letter has been emailed. Do that and you've won the game!
There are two kinds of tours at the West Rim: Air and landing. Briefly:
Have a grand day,

P.S. I rate the top 3 Grand Canyon helicopter tour companies that fly out of Las Vegas, NV. Click here to see who's my #1 choice. .
Tweet
Follow @keithkravitz