How to Decide Between a Flyover or Landing Tour

So you're planning to take a Grand Canyon helicopter tour and you're stuck deciding between an aerial tour and a landing tour. I don't blame you. Both are awesome. However, each has its pros and cons. Understand them and you'll confidently pick the helicopter ride that's perfect for you. Let's take a look...
Air Only
An aerial tour is one that does not land, and, in the best sense of the word, is a "flightseeing" trip. They fly over key landmarks before circling back and landing at the airport. West Rim aerial tours, which are only available from Las Vegas, go over the following points of interest:
Lake Mead
Hoover Dam
Grand Wash Cliffs
The Colorado River
Grand Canyon West/Skywalk
South Rim aerial tours depart daily from Grand Canyon National Park Airport, AZ. There are two kinds: Basic & deluxe. The former goes from South Rim to the North Rim and back. The later is a longer flight that includes everything the basic does plus:
The East Rim
Desert Watchtower
Zuni Corridor
Imperial Point
Dragoon Corridor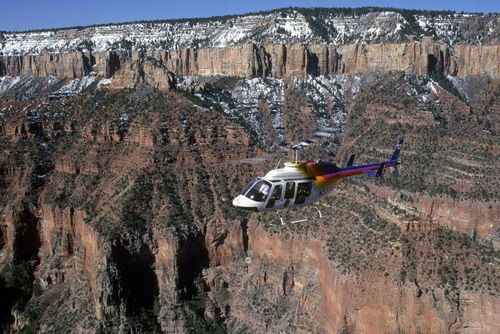 There are two key reasons for taking an aerial tour:
They are the cheapest option - West Rim flights start around $230 while South Rim tours cost around $160 per person.
They are the fastest option - West Rim tours take just 3 hours from start to finish, and this includes hotel pick up/drop off. South Rim trips range from 30 minutes to just under an hour.
Aerial tours, in my opinion, are one of the greatest ways to sample the National Park. Much of what you see in 60 minutes or less from the air would take at least a week on the ground, which makes them perfect for folks who have only a day or two to experience the canyon.
Landing Tours
However, if you have the budget and the time, I strongly urge you to consider opting for a landing tour. These trips combine everything you get with an aerial tour as well as a landing at the top of the canyon or at its base.
The West Rim is the only destination in the entire Grand Canyon National Park where you can fly to the bottom. This alone, from my perspective, makes a bottom-landing tour an absolute must-do because you can't do it anywhere else. These particular trips include a picnic and can be extended to include a Colorado River boat trip and more!
This rim is also famous as the location of the Grand Canyon Skywalk. Also known as the Glass Bridge, the Skywalk lets you:
Walk 70 feet past the edge of the rim
Stand 4,000 feet over the bottom of the canyon!
The Skywalk is all about hyperbole, which is probably due to the fact that it's the largest all-glass cantilevered bridge on the planet. Further, and I find this especially interesting, is that each of it's 40-plus glass walkway panels cost $250,000 to make! That's a lot of "money" to be walking on.
West Rim flights that land on the top of the rim also come with up to 3 hours of exploration time, which is more than enough to check out such hot points of interest like:
Eagle Point
Guano Point
Indian Cultural Center
Hualapai Ranch
South Rim landing tours are limited due to Federal Aviation Administration regulations that ban helicopters from going below the rim and landing. But don't let that hold you back. As of this writing, there's a super-popular helicopter/Jeep tour that includes the 30-minute, rim-to-rim flight plus an off road sunset Jeep trip inside the National Park (one of the most beautiful moments imaginable).
I'm a huge fan of landing tours for the simple fact that you get to see more and do more, which is essential when it comes to experiencing the best of the Seven Natural Wonders of the World. However, when compared to aerial tours, they are:
More expensive - West Rim flights start around $315 per person, while South Rim trips start around $240 per person.
Take more time - West Rim trips require 4 hours or more. The South Rim "landers" require about 3 hours.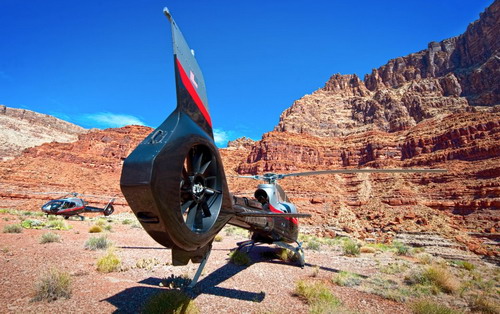 Which Rim?
We kind of touched on this earlier but here's where I want to give you full clarification. First, West Rim helicopter tours only depart from Las Vegas, NV. There are no Las Vegas departures that go to the South Rim because it's too far (appx. 270 miles). If you want South Rim, I recommend this airplane/helicopter package. Second, South Rim helicopters only do the South Rim. Third, there are no flights between the rims. Lastly, and this is directed at Vegas travelers, use this rule of thumb when deciding which rim to visit:
"Go to the West Rim if you want thrills and adventure. Go to the South (also known as the "official" Grand Canyon) if you want incredible scenic beauty."
Types of Helicopters
Two kinds are used: The AStar and the EcoStar 130. I refer to the AStar as the "work horse of the skies." It's the one that's deployed on all the basic aerial flights. It offers a smooth ride and gets the job done. My only complaint is the seat configuration - sometimes they come with a rear facing bench seat, which, in my opinion, is OK, but not ideal. Personally, I say avoid all that and upgrade to a deluxe trip in order to take the superior EcoStar 130. This applies to landing tours, too. Why? Because of the following:
25% more cabin space
Stadium-style seating (all seats face forward & are stacked)
180-degree wraparound windshield
State-of-the-art tail rotor (quiet ride)
Premium climate control
For these reasons alone, I find the EcoStar to be the only way to go. I think you will, too, especially considering the meager price difference between the basic and deluxe versions of these flights.
Rise & Shine!
Helicopter tours are a hit with the travel public and as such are in great demand. This is especially true during peak travel season (April through November). To date, I'm still bumping into folks working under the assumption that it's best to book their flight upon arrival in Las Vegas or Phoenix or the South Rim. This is the wrong way to go about it. My advice here is simple: Always book ahead of time and at least a week in advance. Following this one simple tip will result in:
Getting the flight you want
Getting the time and date you want
Getting the lowest price
Locking down seats for you and your group
Many visitors tell me that they wait until the last minute to book travel because their plans might change. I totally get that and that's why I recommend only purchasing tours from companies offering ironclad cancellation policies. The best ones will give you a 100 percent refund if you cancel 24 hours prior to your scheduled departure time. Further, they won't charge you a dime if you change days within this time frame. Consider this and I think you'll agree that advanced bookings are the only way to go.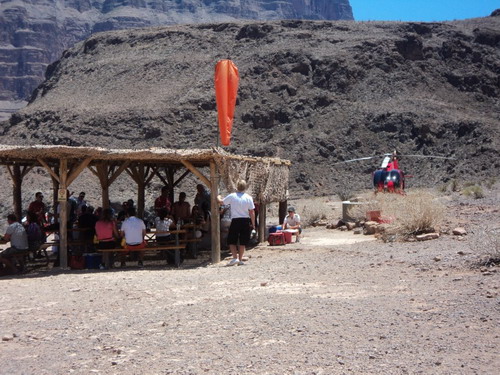 Buy Online
Everybody loves a good deal. It's human nature. Here's how you go about achieving this:
Book on the Internet - The Web by far has the best deals. This is due to the fact that it costs a company less to process an online booking than an offline one. Plus you can shop at your own pace without getting mobbed by pushy sales people;
Purchase direct from the tour supplier - Avoid "big box" travel sites like TravelZoo, Priceline & Expedia. Go straight to the source as these are the folks that own/operate the tours and have the power to offer the lowest prices;
Order online - In order to get that superior Internet rate, you must complete the transaction on the website. You'll know you're done once you receive a confirmation letter/receipt in your inbox. Failure complete your transaction online can result in getting hit with the full retail price (ouch!).
Conclusion
I hope this article helped you understand the difference between aerial and landing tours. The Grand Canyon is a phenomenal place, and the best way to experience it is by helicopter. You now have all the tools necessary to pick the kind of flight that best meets your needs. Just as important, you know how to go about purchasing these flights at the lowest price. Time now for me to stand aside and let you get down to the business of shopping for a trip. See you up there!
Have a grand day,

P.S. I rate the top 3 Grand Canyon helicopter tour companies that fly out of Las Vegas, NV. Click here to see who's my #1 choice. .
Tweet
Follow @keithkravitz